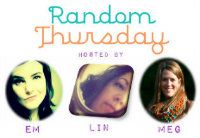 I've been slightly out of it, lately.... Or, I feel like I've been slightly out of it.
However, this week's edition of Random Thursday was up my alley.....
Pet Peeves.......
Hearing People Chew - It. Drives. Me. Insane. I can't stand loud chewers.
"I Could Care Less." - I fight myself not to correct them. It is COULDN'T care less.
Rubbing Pages - When someone has a book or stack of papers, it makes me cringe when they rub the paper between their fingers before turning the page.
The "Walk Into A Room While Starting A Conversation Regardless Of The Fact That A Conversation May Already Be In Progress" - My family and my coworkers are pretty horrible about this. I may be the only one who experiences it more often than not. A couple weeks ago, my intern timed it.... within 15 minutes, SEVEN people entered my office mid-sentence, completely interrupting the conversation actually happening in my office. We never actually finished a conversation and I got so annoyed that I just stopped talking to everyone.
I have others, but those are the four that come to mind.