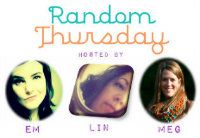 I am so practical that I fear this will be the most boring list ever.....
1) Sunscreen - Like, a whole case of it. My fair-skinned self needs SPF.
2) An umbrella - A huge one. It could triple as a tent, a sun protector, and rain deterrent.
3) Water - Again, a case of it. Hydration, people. Once I was done with the bottles, I would make them into light reflectors to try to get someone to get me off the island.
4) IPod with a self-charger - A self-charging IPod may not exist, yet, but I'd want one. Between music, movies, and books on there, at least I would have some entertainment.
5) A sleeping bag with attached pillow - So that I can sleep in relative comfort.