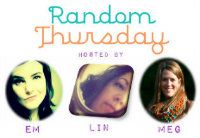 Trying to get sun on my back. Does anyone else get as bored as me when tanning on your stomach?
Couple weeks ago, the clouds were rolling in for a storm.
Last week, an artist's management team called and asked me to deliver flowers to a retiring teacher on the artist's behalf. It was a pretty cool little assignment. While I won't name the said artist, Country fans will most likely be able to guess......
So, the "church" (and I use that word lightly, in this case) paid my town a visit, recently. They protested a bunch of high school graduations and several churches (including mine). I thought this sign was amusing.....
THIS is what awaited me when I got to work today. They are a new client and were on our morning shows. Then, they had the nerve to leave everything for us. I may have gone to the freezer a time or two throughout the day.....