I say "sneak peak" because those of you receiving cards from me will NOT be receiving this one.
Fact about Jessica......
I like variety.
So, when I got my 50 free cards from
Shutterfly
, I split the 50 between 3 different designs. Then, I had a code for another 10 cards, so I got 10 in an entirely different design. As in, I have 4 different designs.
Unless I have a picture with you from 2010. Because, if I have a picture with you from 2010, then you could be receiving any number of designs, personally chosen to suit our friendship and picture.
Do you see why Christmas Cards take me so long to complete?
I'm sure that when I'm married and have kids, I'll have one card design. Until then, I make things more difficult for myself and more personalized for the receiver.
All that to say............
Here's one of my many Christmas Cards (that none of you will be getting in the mail)......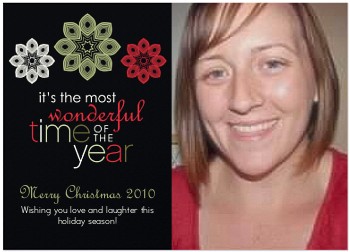 Retro Kaleidoscope Holiday Card
If you have a card you'd like to share with the class, Shutterfly is offering up a $25 gift certificate! Head over to your "My Shutterfly" page to get the details!