Hi All!!!!
I realize that all of my December posts consist of "I'm not ready for Christmas!!!!" type frets. I fully admit that I've been all kinds of boring, these past several weeks. Very repetitive.
I've done lots of things over the past month and haven't documented any of it. Eventually, I will.
For now, though, I have big news........
I'M SO CLOSE TO BEING READY FOR CHRISTMAS!!!!!!!
Cards - DONE!
Christmas Shopping - DONE!
Christmas decorating - DONE!!
Christmas movie watching - Halfway there!
Wrapping - Not done, or started, but that's the plan for tonight!
I'm so happy and excited!!!
And, because I feel like it...............
1. Giving is fun! I try to come up with the best gift to suit the person to whom I'm giving. Sometimes, it's really, really difficult. Then, I'll get a brainstorm and just know exactly what to get!
2. Receiving is also fun!
3. The best gift I ever received (for Christmas) was my Barbie dream house with an elevator. I loved that thing. I also got a trampoline, one year, and would spend hours jumping. I always got great gifts, as a child. As an adult, I still get great gifts. :) Recently, my favorites have varied from a weekend getaway to NYC to a simple one-hour phone call.
4. The best gift I ever gave was an engraved picture frame and the picture that went in it. That was for my mom, the frame for Christmas last year and the picture for Mother's Day.
5. Something intangible that I wish I could receive is the love of my life :).... all in God's timing.
6. Something intangible that I wish I could give is hope, faith, and the love of whimsy. At heart, I try to be and am a child. I love the wonder of things around us, magical or not. It makes me sad when people "grow up" too much to have that sort of simple joy.
7. The one gift I always wanted as a child, but never got was ...... I can't think of anything.
~~~~~~~~~~~~~~~~~~~~~~~~~~~~~~~~~~~~~~~~~~~~~~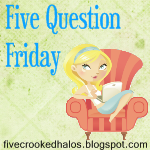 1. Do you regift...and if so, do you have a regifting horror story?


I'm sure that I have regifted, but I don't have any horror stories. When I say "regifted", I'm usually upfront about the fact that I received something as a gift, couldn't use it, and thought the new receiver would appreciate it more.


2. Do you know what you are getting for Christmas this year?


NO CLUE. I'm fine with that. I was never the kid that went looking for presents and would get upset if I found out about a gift beforehand. I like being surprised!!


3. Who brings the most gifts in your family, you or Santa?


Santa (yes, he still comes at 27 years old) brings one special gift.


4. What store do you love to by jeans from?


Right now, Old Navy. I've found that the Diva rise works best for me.

In my "I've lost weight, but not all that I want" transition time, I've recently had to go buy new jeans/pants. My old ones were simply too big. However, I didn't want to spend a ton on them, since I hope they'll be too big, very soon. Enter Old Navy. They fit, they look good, and they are inexpensive.

In the past month, I've spent about $175 with them and, in return, have gotten a small wardobe (5 pairs of jeans/pants, 8 pairs of panties, and 4 sweaters/tops). I still wear a lot of my old clothes, but I now have some better fitting clothes, as well.


5. Christmas meal: Big, All Out Meal or Snacks and Apps?

Big meal.

My mom cooks a feast. Everyone comes over and pigs out. Then, we lay around in a food coma for a while. Later that night, we usually bring out bits and pieces of the meal.