It's the last day of the challenge. Boy, these 30 days went by fast, lol. Thanks so much to Krystal for hosting this challenge!!!
Day 30 – Your Favorite Song At This Time Last Year
Summertime - Kenny Chesney





You Belong With Me - Taylor Swift

This time last year, this song was absolutely MY song. TG had just gotten out of a relationship. We were getting really close. It was right before he left.
Boots On - Randy Houser
This song is fun and became a great joke between me and my friends at work.
~~~~~~~~~~~~~~~~~~~~~~~~~~~~~~~~~~~~~~~
Lauren
's Fill in the Blank Friday
1. My favorite current TV show is Big Brother. Every summer, I am sucked into the vortex of the Houseguests and the craziness of the game. And, as it's currently the ONLY new television I watch in the month of August (SYTYCD is over and the new stuff hasn't started), I'm thrilled with 3 episodes a week.
2. The TV character I can relate to most is
probably Rory from Gilmore Girls. Fairly normal with a side of quirky.... good friend.... loves tradition.... pretty smart but not a genius.
3. My life is like (fill in with TV show and why)....
Brothers and Sisters. My family is large. We love each other one minute and hate each other the next. And, we somehow end up in these crazy situations that are absolutely hysterical.
4. My all time favorite TV show is
probably All My Children and General Hospital, just because I've watched them forever. I also would say Full House.
5. A TV show that is ridiculously stupid, but I continue to watch is
The Bachelor/ette. It's ridiculous, but I love it. I also love the silly ABC Family shows.
6. My favorite TV couple is
Doug and Carol on ER, Joey and Pacey on Dawson's Creek, Sonny and Carly on GH, Hayley and Mateo on AMC, Kendall and Zach on AMC, DJ and Steve on Full House.... just to name a few. I love TV relationships, lol.
7. One TV episode I could watch over and over again is the episode of
Friends when..... well, I love most all of them and will laugh and laugh and laugh.
~~~~~~~~~~~~~~~~~~~~~~~~~~~~~~~~~~~~~~~~~~~~~~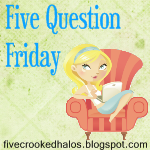 1. Do you have any nicknames and if so how did it come about?

I have several, but I've also answered this question several times.



2. What is your birth order amongst your siblings?

I'm the only child between my mom and dad.

On my dad's side of step-children, I'm the second oldest. However, I don't have a whole lot to do with that side, so it's kind of a moot point.

On my mom's side of step/half siblings, I'm the oldest.

Did you follow all of that, lol?


3. In a movie of your life, who would play your significant other?

Oh, the options, lol.

As I don't have a significant other, I really can have fun with this one.......... George Clooney, Gerard Butler, Shane West, John Duhamel........



4. What is currently your favorite song?

For all things song related, take a look at my 30 Day Song Challenge.


5. Are you saving your money for anything right now? Big or small purchase?

Not really. I'm just saving as much as possible.
~~~~~~~~~~~~~~~~~~~~~~~~~~~~~~~~~~~~~~~~~
Last, but certainly not least...........
Heather and Melissa are now hosting Monday Minute!

*Favorite 80s flick?

Back to the Future, Dirty Dancing, Batman, and Adventures in Babysitting (which left me terrified of subways for a very long time)



*One genre of music needs to be banned. Which genre?

Probably heavy metal or the scream crap.



*All time favorite candy?

Starbursts, WalMart fruit snacks (seriously, they are the best fruit snacks ever), Milky Way, 3 Musketeers, Zero bars (have you ever had them? sooooo good)



*How 'flawed' is your driving record?

*knock on wood* I have a perfect driving record.



*What was high school mascot?

Vikings..... or, as I would say during cheerleading, "V-I-K-I-N-G-S!!!"



What color socks are you wearing?

I'm not wearing any. I don't wear socks unless I'm working out (and therefore wearing tennis shoes).